Top Trends In Granite Pavers
1- Sesame Black Exfoliated

Sesame black exfoliated are new premium dark granite pavers. It is part of our exclusive Stone Elements® brand of natural stones. The speckled mix of small white, grey and black crystalline minerals gives a slight salt-and-pepper, ash black look to this handsome stone when observed up close. When installed correctly, the colours blend to create an attractive clean and even look.
Ash black granite work well with all types of designs and architecture, ranging from classic to contemporary. Use it outdoors for walkways, driveways, courtyards, steps, pool surrounds and flooring. Its ability to withstand etching and staining makes it an excellent choice for high-traffic areas and large urban designs.
It has the highest slip-resistant rating of P5, making it appropriate for outdoor use in areas subjected to moisture. It withstands rain, snow, heat, humidity and freezing temperatures. In addition, its inert mineral content makes it more resistant to salt attack, an important consideration in heat and thaw conditions.
This superior stone exceeds the standard values for granite building stones because tests show a compressive strength of 195 MPa, which is far superior to the minimum standard of 131 MPa.  So it is a highly dense stone and is available in multiple sizes and thicknesses, allowing designers to select appropriate stones to meet project needs.
Both sesame black and midnight black, another premium dark granite offered by Outdoor & General, are used as specified replacements for raven black and adelaide black by local government and designers. We have ample stock and a stable supply to support large projects.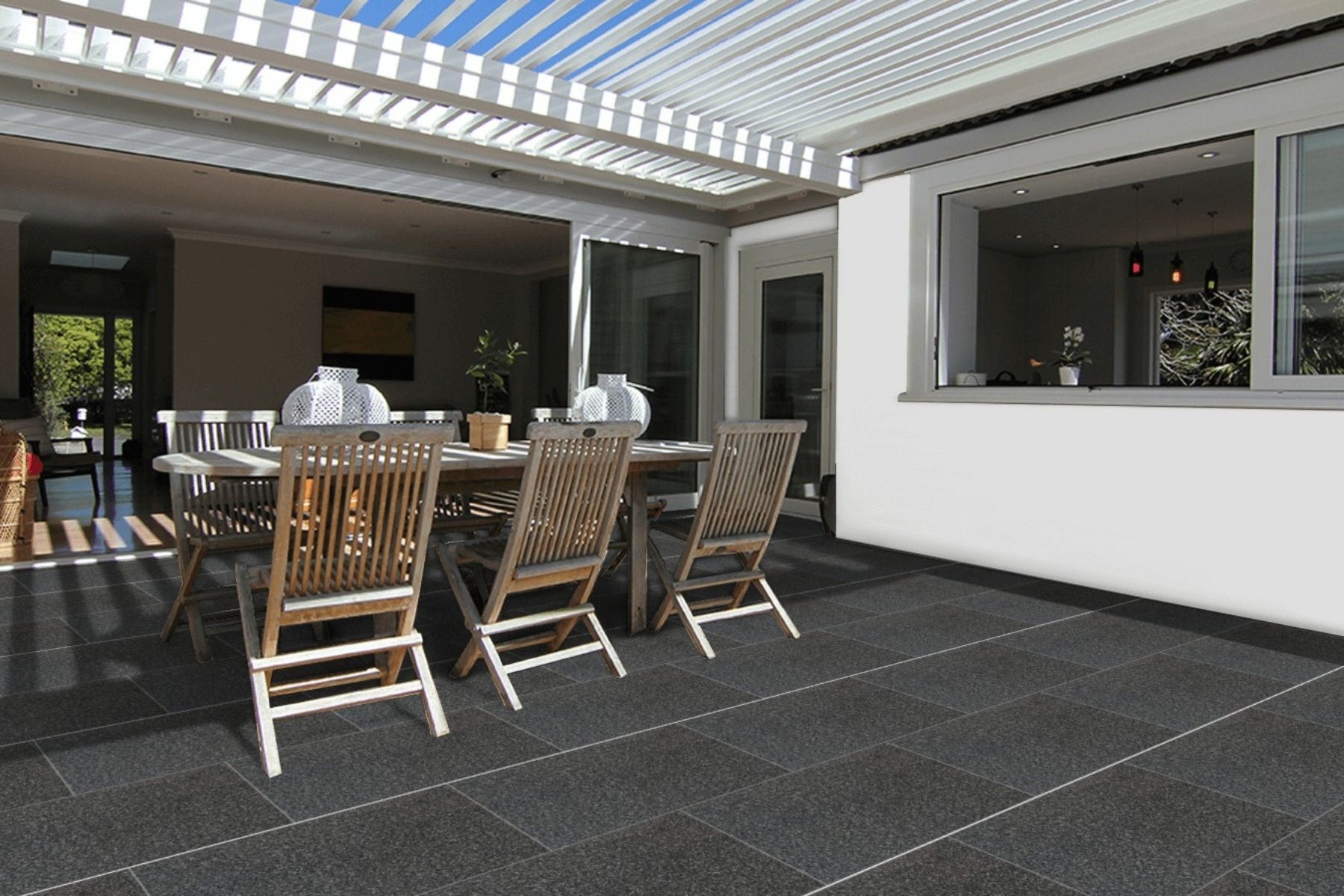 2- Raven Grey Exfoliated

Raven grey exfoliated is a blend of black and several shades of grey mineral inclusions. The inclusions in the stone create an attractive, medium-grey paver that complements all design styles. While the exfoliated finish brings out the intricate patterning of the crystalline mineral structure. This highly dense stone is suitable for heavy-use and high-impact areas, including driveways, entryways and major flooring. It also resists salt attacks and weathers well in the harsh Australian climate.
Raven grey are moisture-tolerant, which makes this paver ideal for pool surrounds, pool copings and driveways. Install it as a walkway with a pebble border, as courtyard paving or as a stepping stone path. It's superior compressive strength of 192 MPa places it with the strongest natural stones on the market. It also has a P5 slip-resistance rating, suitable for wet environments. low water absorption and dark colour of this stone also enhances it's stain-resistant qualities.
We offer several sizes and formats, including bullnose pavers, stair risers, squares and rectangular pavers. It comes in two standard thicknesses of 20 mm and 30 mm, allowing builders, engineers and designers to select stones that meet the weight-bearing requirements of large projects.
3- Midnight Black Exfoliated

The whorls of black, white and grey in a dark background give a smooth, crisp appearance to midnight black granite pavers. The black, grey and white crystalline mineral inclusions create an overall colour of deep charcoal grey interspersed with darker and lighter flecks.
This premium-grade granite paver works well in both residential and commercial settings, suitable for all applications. Install it as pool surrounds, stepping stones, walkways, landscape terracing, courtyards and driveways. Designers can use it to advantage as either a contrast colour or focal point for landscaping. We are proud to include it in our collection of Stone Elements® natural stone products.
Midnight black exfoliated exceed the standards for granite building stone, offering a superior, highly dense stone that wears well in high-traffic areas, performs in wet environments and tolerates extremes of weather. It's resistance to heat and cold makes it ideal for Australia's climate.
It's density and compressive strength is impressively high, demonstrating its load-bearing qualities. In addition, it's slip resistance is rated as P5, making it suitable for all applications, including areas that are subjected to rain and moisture.
Where To Buy Granite Pavers?
At Outdoor & General, we offer a wide selection of granite pavers that meet any budget and design requirement. Our premium granite pavers offer excellent value, with superior strength, beauty and durability. To enhance the stain-resistant characteristics of granite surfaces, we also carry topical sealants and cleaners that help maintain and protect your stones.
We offer several sizes including large rectangular pieces, several sizes of smaller rectangles and squares. Thicknesses include 20 mm, 30 mm and 40 mm. The thicker stones have an enhanced flexural strength, important for commercial projects that require a robust foundation.
Our experienced staff can help you select pavers that will meet your project's needs. We can arrange delivery or on-site pickup. We encourage you to stop by our showroom to see first-hand the attractive quality of our products. We are open seven days a week. You can also browse our online catalogue and order online. Feel free to give us a call to answer your questions about our extensive range of outdoor natural stones.