8.33% off

Pure White Quartz Pebbles

from AUD

$22.00


(per bag)

Pure white quartz is one of our best-selling garden pebbles. Also known as Snow White pebbles, pure white quartz will showcase your landscape or garden. Their matte finish gives a natural look to any creation. Each hand-picked pebble has a unique, rounded shape that gives a distinctive look to your garden. The pure white colour sparkles in natural light and shimmers in water. Use Snow White pebbles in water gardens, Zen gardens, paths, around swimming pools or as ground cover. We supply pure white quartz pebbles in sizes from 10 mm to as large as 80 mm and several sizes in between. They come in handy 20-kg bags.

Select options
Decorative Pebbles

Decorative pebbles are a versatile and beautiful natural addition to a garden. Natural stone pebbles come in many colours, including snow white, dark blue, light blue, sandstone, grey, gold, cream and black. Creative landscape designs for homes and businesses play on the shapes, colours and textures of garden rocks to accentuate features of your property. Use decorative pebbles as mulch to help soils drain, as terraced steps, to add contrast to rock walls or as stand-alone ornamental elements that add texture and drama to your garden. The ideas are endless. Here are a few:
• Walkways and paths
• Borders
• Between stepping stones
• For weed control
• In succulent gardens
• In potted plants
• Around swimming pools
• As courtyard designs
• In aquariums, vases and terrariums
• In ponds, fountains and other water gardens
• In Zen or meditation gardens
• Atop drains and grates
• As ground cover
Pure white quartz and white Thasos marble pebbles are ideal for Australian landscapes. The white colour reflects sunlight and heat, important in our hot summers. Their porous texture absorbs moisture, allowing water to slowly percolate into the ground and reduce the need for watering. Use them as borders, in between stepping stones, in water features or in potted plants to add texture and interest to your outdoor space.
Outdoor & General's garden pebbles come from exotic locations throughout the world, including Greece and various sites in Asia. Choose from basalt, pure white quartz, marble, sandstone, granite and assorted volcanic rocks. We stock a range of sizes in large quantities to help you create a unique outdoor space that spices up your home or business.
Our showroom and warehouse in Punchbowl, New South Wales, displays natural stones that can be used throughout your outdoor space, including driveways, retaining walls, berms and walkways. Our large storage facility contains pebbles, pavers, cobblestones and wall blocks to accentuate your home or garden. We sell to professionals and the general public.
You can order online or in our showroom. We ship small quantities and deliver large quantities to your doorstep, making it easy to start your garden project. We deliver to Sydney wide and locations outside the greater Sydney metropolitan area. Please review our delivery procedures to make sure you are able to receive your order safely. You can also arrange to pick up materials from our showroom that's conveniently open 7 days a week.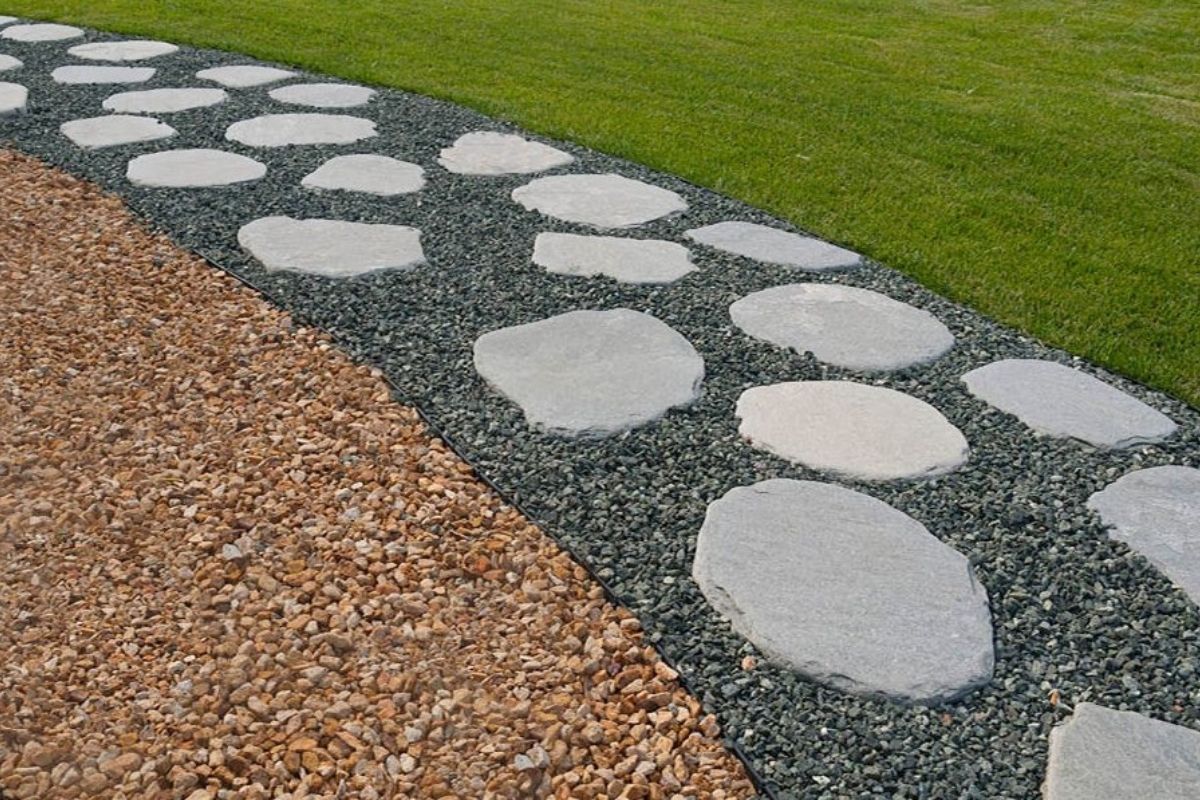 Black and gold polished pebbles add lustre and texture to your landscape. Striations of gold and black in these rounded pebbles give a distinctive look that will transform your garden. Use them on slopes to help keep soil in place, to line pools and fountains, as mulch around shrubs and flowers or in Japanese gardens. In water gardens, they glisten and gleam as sunlight reflects off their polished surfaces.
River Stone polished pebbles are a mix of light earth tones, including gold, beige, white, grey and brown, giving a natural look to your garden and landscape. Use them as contrast with beige walkways, as borders to driveways, as mulch or to create flowerbeds under trees or next to your house. The light colour and smooth surfaces of the stones set off the deep shades of leafy greens of trees and shrubs. They work well as liners in water gardens, sparkling in the sunlight.
They are available in sizes ranging from 20 mm to 80 mm. They ship easily in handy 20-kg bags. For large quantities, contact our staff to arrange home delivery.
Pure White Quartz Pebbles
White Thasos Marble Pebbles
Akron Pebbles
Fish Grey Pebbles
Bluestone Pebbles
Full Polished A+ Premium Black Pebbles
Mandras Sandstone Pebbles
Find out more about Decorative Pebbles
For all your Decorative Pebbles needs, contact us today!
From homes to commercial streetscapes, we cater for professionals and DIY market. Got an enquiry? Fill out the following form and we will get back to you ASAP.